Most Successful Hockey Players in History
Hockey is not an easy sport, as it requires a lot of effort, hard work, discipline and especially talent from those who want to practice it. That's why players who managed to excel at this sport are to be greatly appreciated. We combed through the sport's history and came up with a list of the greatest hockey players of all time.
Bobby Orr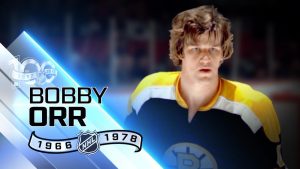 Widely regarded as one of the best hockey players in history, Robert Gordon Orr is considered a legend because he managed to perfect the art of being an offensive defenseman. He is actually the first hockey player to play in this manner and the only player in the history of the National Hockey League (NHL) to have won the Art Ross Trophy and the Norris Trophy in the same year. And he managed this feat twice.
But during his career, he won no less than eight Norris Trophies as the League's most valuable defenseman.
Additionally, he was the only 18-year-old rookie who entered the NHL during the original six teams in the 1966/67. He was so good that he led the league in points as a defenseman in 1969-70.
Wayne Gretzky
Wayne Gretzky secured a place in NHL history after achieving to record over 200 points in one season. And he did it not only once but four times during his career.
Nicknamed "The Great One," the Canadian sportsman played 20 seasons in the NHL and was part of four teams during this time: Edmonton Oilers, Los Angeles Kings, St. Louis Blues, and New York Rangers. He is the record holder for most goals in a single season – no less than 92 red lights, as well as for the fastest to 50 goals in a season – namely 39 games.
But to better understand why he's acknowledged as such a successful hockey player, know that he holds a total of 61 NHL records, 40 of which are regular season records, fifteen are playoff records, and the remaining six are All-Star records.
Before Wayne Gretzky amazed the hockey world with his great talent, Gordie Howe was the one to write history. He was the only player in NHL history with more than 800 goals.
He built an astounding hockey career, having played 26 seasons in the NHL and six seasons in the World Hockey Association (WHA) from 1946 to 1980. He is seen as a complete hockey player, considering he has six MVP trophies under his belt, as well as countless All-Star records and is included in the Hockey Hall of Fame. He played with the Detroit Red Wings for 25 of these seasons.
Terry Sawchuk
Terry Sawchuk is acknowledged by many as the greatest goalie in NHL, considering that he was, for many years, the all-time leader in this respect with 447 wins. His hockey career spanned a total of 21 years, during which he won four Stanley Cups, with the Red Wings and the Toronto Maple Leafs, as well as four Vezina Trophies.
Maurice Richard
Maurice Richard, also known as "The Rocket," played as a right winger and had his own contribution to writing hockey history, being the first player to reach 500 goals in his career and to score 50 goals in one season. He played 18 seasons in the NHL for the Montreal Canadiens and won eight Stanley Cups with the team.  In 1947, he received the Hart Trophy and was named the NHL's most valuable player.