Leicester Riders Will Compete in the Basketball Champions League
Leicester Riders have been accepted into the Basketball Champions League, thus becoming the first British team to play in a European league in more than ten years. Their entry into the 2018-19 season has already been confirmed, and they are now in the first qualifying round.
The UK-based side, which is the oldest professional basketball club in the country and local champions, will be one of the 24 teams from 13 countries that entered the first round, and six more will join in the third qualifying round.
The club's intention to take part in the competition was made public earlier in June and the recent announcement is all the more important considering it will be their first European competition since 1992.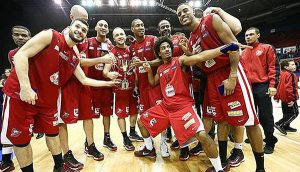 The Riders have been doing really well in the last few years when it comes to local tournaments, and it seems that their efforts are starting to pay off. They have had a series of back-to-back successful treble seasons in the British Basketball League, and their participation on the continent could significantly boost their revenue.  
"Having won the BBL Championship for the last three seasons, the prospect of playing against top European clubs, and the champions of other countries, is definitely part of our vision for the Riders," the club's chairman Kevin Routledge said a few weeks ago.
The competition, which is organized annually by FIBA, includes three qualifying rounds, the first of which begins on September 20th.  The tournament starts with a regular season of 32 teams, divided into four groups. The teams involved will face a two-legged tie before going to the next stage – the Final Four. This usually takes place at the end of April or beginning of May.
The 2017-18 season was won by AEK Athens, after they beat Monaco 100-94. Besides the coveted Basketball Champions League Trophy, the winners get to go home with a €900,000 prize. FIBA awards all participating teams a €50,000 base fee for reaching the regular season.
The last time a British side had the chance to play in Europe was in the 2007-08 season, when Guildford Heat were the United Kingdom's representatives on the continent.
For those who don't know, Leicester Riders is a legend among British basketball teams, being the oldest one in the country. They have so much history, actually, that they contributed as founder members to the National Basketball League (NBL) formation in 1972 and the creation of the British Basketball League (BBL) in 1987.
They won the British Basketball League four times, in 2000–01, 2012–13, 2016–17, and 2017–18, the BBL Trophy in three consecutive years (2016, 2017, and 2018), and the BBL Cup twice, in 2013 and 2014.